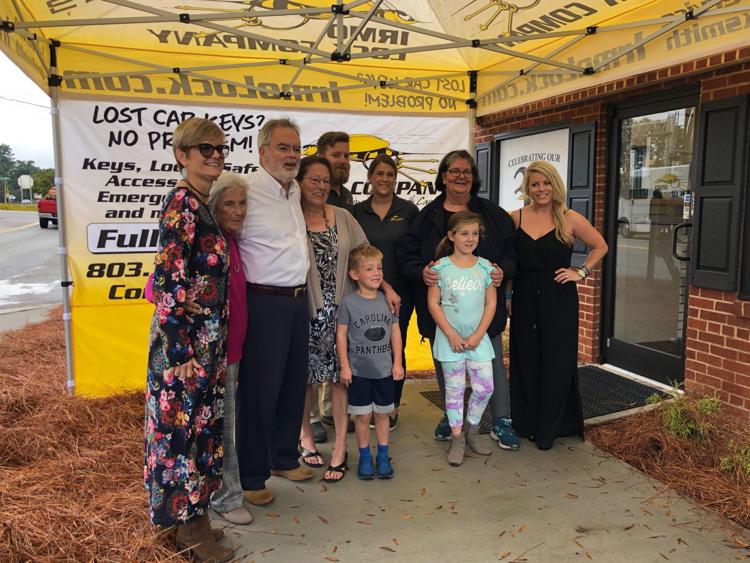 A crowd of friends, family and loyal customers gathered at Irmo Lock Company Inc. Wednesday morning to celebrate the business reaching its 30 year milestone.
The family-run company opened Sept. 20, 1989, and has been serving the Irmo community ever since. Owner Skey Caskey and his family were honored at Wednesday's celebration. Caskey's son and co-owner, Guy, said he knows two of the main reasons their company is still running strong. "I think Irmo Lock's success can be attributed to a couple different things. One, do what you say you're going to do, I think that has helped us prosper. And two, leave it better than you found it," he said.
Representative Chip Huggins presented Skey and Guy Caskey a congratulatory message from the House of Representatives. "Customer satisfaction is the only goal of Irmo Lock Company, they've built their reputation on personal time and skilled services from key copying to car lock outs, with a mobile fleet of eight units. They stand prepared and ready to assist," Huggins said. "We extend our best wishes in celebrating their 30th anniversary."
A Certificate of Recognition was awarded by the Irmo Chamber of Commerce's President Kerry Powers. Then, Caskey was awarded a surprise gift from Irmo Mayor Hardy King.
"Y'all have done a great thing here. We're here to present you the key to the town of Irmo, and this is an honor to be here today to recognize you for 30 years, and recognize the business," said King. Caskey accepted the key from King, then passed it to his son. Both Skey and Guy Caskey reiterated gratitude to the crowd for their support over the past 30 years. A lunch reception and cake-cutting followed.
Irmo Lock Company Inc. is located at 7418 Woodrow St., just off Lake Murray Boulevard. More information about the business can be found at irmolock.com