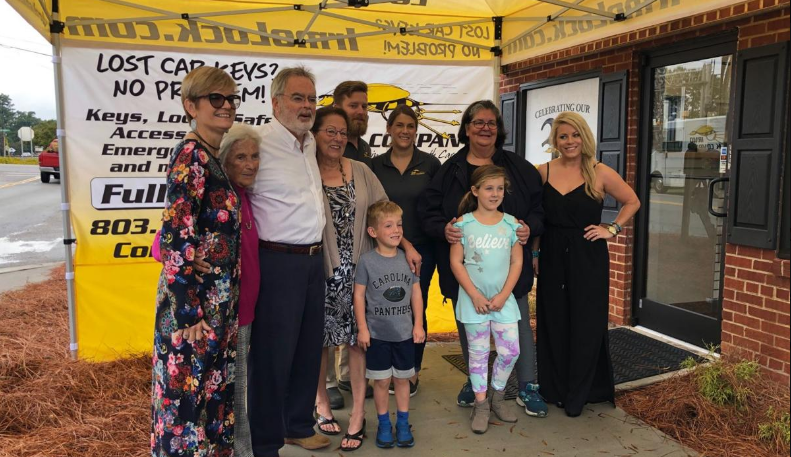 Invest In Veterans Week was established in 2019 to honor aspiring and established veteran business owners and their contributions to the economy.
The Lexington Chamber and Visitors Center encourages residents to support veteran-owned businesses during National Invest In Veterans Week, which is held the first week of March each year.
Irmo Lock Company co-owner Guy Caskey spent 10 years in the Navy from 2008 to 2018, with his primary station in Virginia Beach, VA.
According to Caskey, one of his most memorable experiences during his time of service is the relationships he made with his fellow soldiers. "Honestly, I think the best memory I had is the people I served with. Maintaining those relationships to this day and being exposed to people with a like-mind and true patriots, was a blessing," he said.
Caskey said he grew up already involved in the family-owned locksmith business. Once he returned from his Navy service, he was able to jump back in. Caskey now owns the company that was started by his father, Skey Caskey. Irmo Lock Company celebrated its 30th anniversary in 2019, and is now expanding to include a new location in Cayce called The Modern Locksmith.
"We've been blessed with a community that's allowed us to grow over the last 31 years," said Caskey.
The company offers a variety of services including security cameras and systems, auto keys, access control and door locks for homes and businesses.
"As the key continues to evolve, we evolve with it - so technology and security go hand-in-hand," he said.
Additional information can be found at themodernlocksmith.com.
Ways community members and organizations can support Invest In Veterans Week:
Promoting veteran owned businesses on social media
Buying from veteran owned businesses
Hosting a workshop for aspiring veteran entrepreneurs
Nurturing veteran startups - grants, fundraisers, complimentary services
Partnering with a veteran owned business
Mentoring a veteran entrepreneur
Promoting National Invest In Veterans Week via social media using #nationalinvestinveteransweek