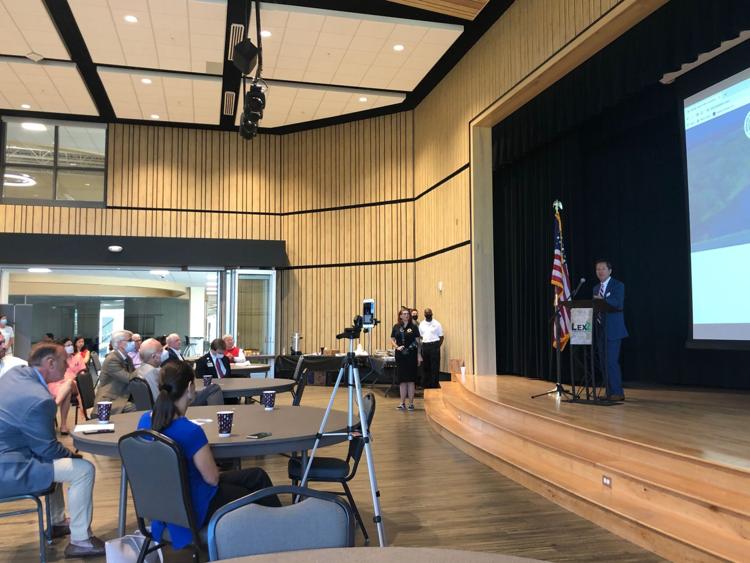 The Greater Cayce West Columbia Chamber has recently undergone a change in leadership.
Interim CEO and executive director Tim James has been in his new role for just nine days, replacing former CEO Richard Skipper.
State Senator Nikki Setzler spoke highly of James at the monthly chamber breakfast Tuesday morning. He acknowledged that the GCWC Chamber has made it through times of difficulty in the past, but has always come out on the other side. "I would say to you that the board has made a great decision in Tim James as executive director. He has the vision to bring this chamber back and make it what it's always been," he said. 
James said he is truly thankful to be given the opportunity to serve the community. "I appreciate being in this position, and I take it with gratitude. I will do my very best to humbly serve you in all we do," he said. James is a lifetime resident of the Cayce/West Columbia area.
He spoke with Cola Daily regarding his new role, noting that he plans to promote local businesses and continue the success of the chamber. "This is an extremely challenging time that our chamber and community can come together to assist [businesses]. Can we even recall in history a more challenging time than COVID-19? I don't think so," he said.
James reiterated that he will help the GCWC Chamber to be a unified voice for local businesses. Additionally, he added that the chamber board is committed to a formal sense of development, and he wants to enhance the visitor's center.
"That's the theme we're going to have as a chamber - being a strong voice for the businesses working in partnership with our community, government and academia to prepare our children for future jobs right here in our community," he said. "I'm stoked about building those partnerships."