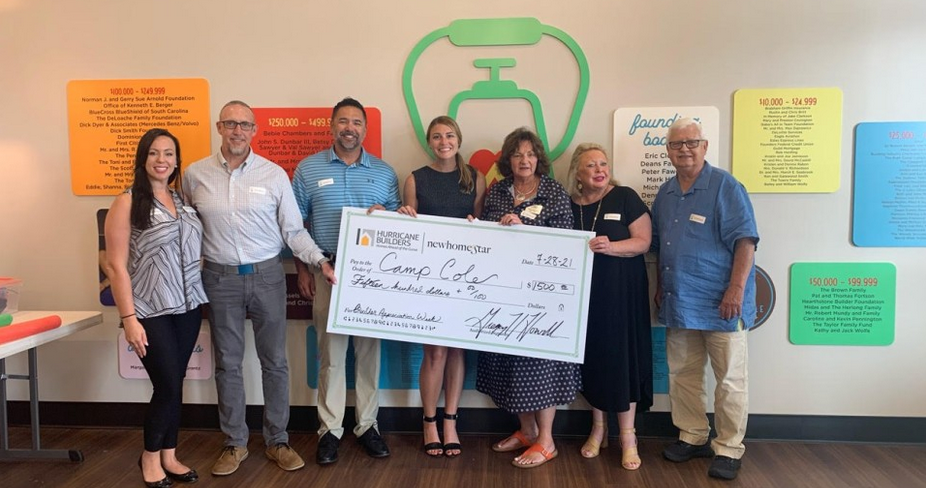 Camp Cole officially opened in June and welcomed its first group of campers just two weeks later. The Eastover-based 40-acre facility serves children and adults with disabilities, illnesses and other life-changing challenges.
Founders Kelsey Sawyer Carter and Margaret Deans Fawcett Grantz were able to make their longtime dream a reality after years of fundraising efforts. Hurricane Builders recently helped contribute to the funds earlier this month.
The Hurricane Builders Lake Carolina team coordinated a Pelican's SnoBalls visit to the camp during Builder Appreciation Week. It also happened to be the week Camp Cole hosted its first group of campers.
As a result of the Pelican's visit, the team entered Hurricane Builders for a $1,500 contribution from New Home Star. They were awarded the amount, which Hurricane Builders chose to donate to Camp Cole.
The week the check was presented to the camp was also a week on-site that had been designated for children who have suffered from homelessness.
"All of the kids here this week have experienced some form of homelessness," camp psychologist Elizabeth Buckner said. "We serve breakfast, lunch and dinner to the campers and one child said, 'You mean we get three meals a day?'" Team members said it was a tear-jerking moment of realization for everyone who listened to the stories about the campers.
Hurricane Builders is a South Carolina-based residential builder focused on building the smartest homes for the best value. Company officials said they appreciated the opportunity to give back.
Anyone interested in volunteering or donating to Camp Cole can find more information on the camp's website.