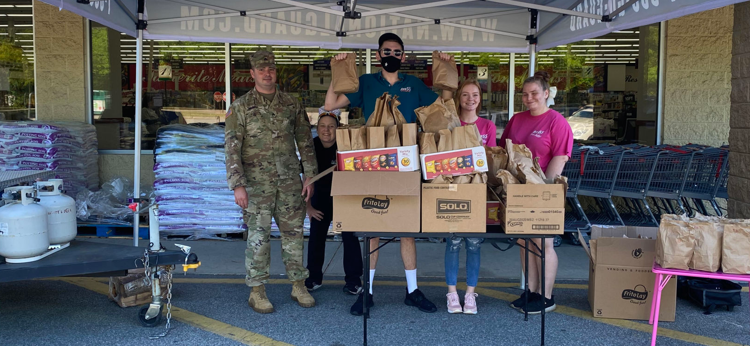 Highway 55 Burgers in Lexington is extending a helping hand to the Pelion community through a bag lunch giveaway Wednesday.
Owner Jay Webb began free bag lunch distributions earlier this year when the COVID-19 pandemic led to the initial closure of schools and businesses. The meal distributions were meant for children in need of nutrition, especially those who relied on their school for meals.
"One of our company mottos is 'love your neighbor' and one of the easiest ways for us to do that is to feed them," Webb said. He said that through the pandemic, Highway 55's business has been more successful than ever in its eight years of operation.
Webb expressed his love for giving and his belief in the importance of loving one another which has led to him serving the community through his business.
Wednesday's bag lunch giveaway will be held at Shumpert's IGA in Pelion from 11 a.m. until the all meals have been collected. The bag lunches will include either a hamburger or a hot dog, a bag of chips, cookies and a drink. Meals will be given out on a first-come, first-serve basis.
Webb also added $20 Shumpert's IGA gift cards in 50 of the 200 bag lunches, which will be given away at random. The gift cards are good for use at the Pelion store. "We wanted to make a difference to the most people possible, and twenty dollars in groceries goes a long way," he said.
In prior bag lunch giveaways, community members came together to donate to Webb's efforts, which is how he funded purchasing the grocery gift cards.
"It's definitely a positive thing we need to see when there's a lot of negative going around," said Melissa Behles, assistant manager at Shumpert's IGA. She expressed her gratitude towards Webb for assisting the community in a time of need and said she is happy to have Highway 55 set up outside of the grocery store for Wednesday's lunch distribution.
Those picking up meals have the option of walking or driving up to Highway 55's setup and social distancing precautions will be in place.
Webb shared his excitement to continue additional community outreaches in the future. "It's all about loving your neighbor," he said. "We are out there to do that."