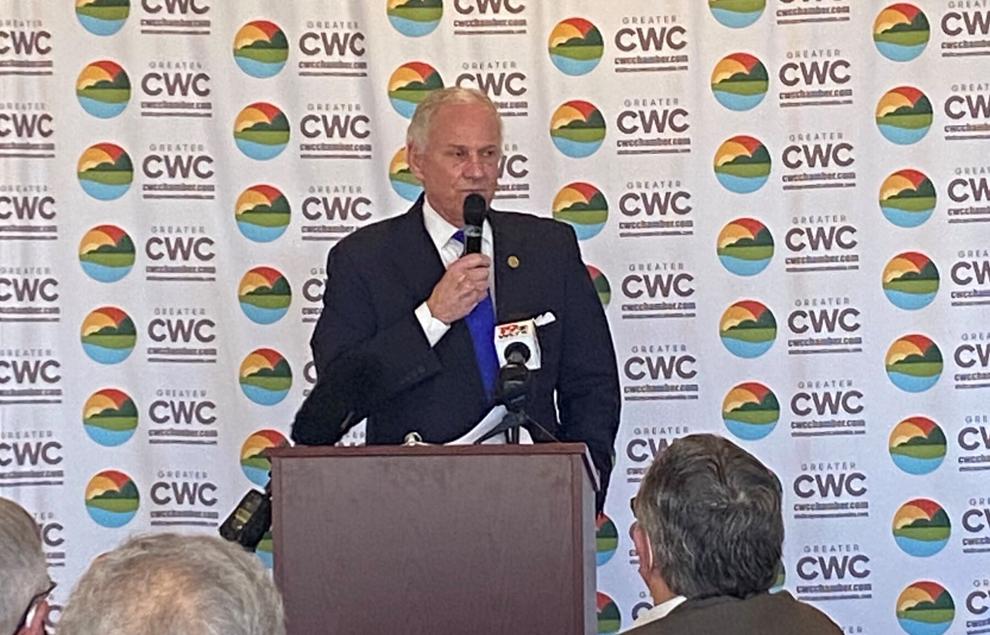 Members of the Greater Cayce West Columbia Chamber gathered Tuesday morning at Stone River in West Columbia for the organization's monthly breakfast meeting.
Chamber CEO Tim James first presented a resolution to Lexington Medical Center's President Tod Augsburger, congratulating him on the hospital's 50th anniversary. Then the new Business of the Quarter award was presented to Tom Osteen of ATO Ltd.
Following the awards presentation, James introduced Governor Henry McMaster as the speaker of the meeting.
McMaster began by providing a brief recap of some decisions that were made in the early stages of the pandemic to ensure the preservation of as many businesses as possible. "We had a lot of help trying to determine what to do. We put together a group called AccelerateSC," he said. McMaster elaborated on the group's approach of restricting activities, circumstances and types of conduct most likely to spread the virus. "We tried to restrict as few things as we could. Our unemployment rate is one of the lowest in the US right now. We're trying to see what help we can do to be sure businesses are able to continue to flourish," he explained.
He also said out of the $1.9 billion in CARES Act money, South Carolina put half of it back into the unemployment insurance trust fund. "We know in South Carolina we are prime, in perfect position to really accelerate our economy," McMaster said. "We put $40 million of CARES Act money into 2,284 small businesses."
Once he recapped some of the decisions made last year, he discussed future plans surrounding the continuing vaccine distributions. He stood by his decision to allow senior residents priority, mentioning that 88% of state residents who have died from COVID were 61 or older. "So, why would we want to put young, healthy people in front of older people who may get very sick and die? It doesn't make sense and I intend not to let that happen," he said.
He assured chamber members that the vaccine supply will continue to increase. "It's going to get better. Just wait your turn, it's coming," said McMaster.
One question from the crowd inquired about the importance of teachers receiving the vaccine, after McMaster mentioned the need to reopen schools. "There is very little spread in the schools, hardly none from students to older people and staff/teachers. The CDC has said schools with all the PPE - that is one of the safest places people can be," he explained. McMaster also reiterated that those "in danger of getting very sick or dying" must continue to remain first in line to get the vaccine.
Another question related to the importance of repairing South Carolina roads, and when that was expected to happen. McMaster claimed that they are "playing catch up" with the roads, after being lacking in funds and contractors for a long time. He said he is "very aware" of the need. "We certainly have to do that, that's part of our infrastructure," he said.
Lastly, he addressed a question regarding the removal of the 11 p.m. alcohol sales restriction for restaurants and bars. McMaster said many factors are involved, including the amount of people who have been vaccinated, availability, and the spread within counties. "That's a question about remaining restrictions that comes up every day. We're watching it like a hawk," he said. According to McMaster, making the decision to lift the restriction isn't the hard part, it's getting accurate facts upon which to make the decisions.