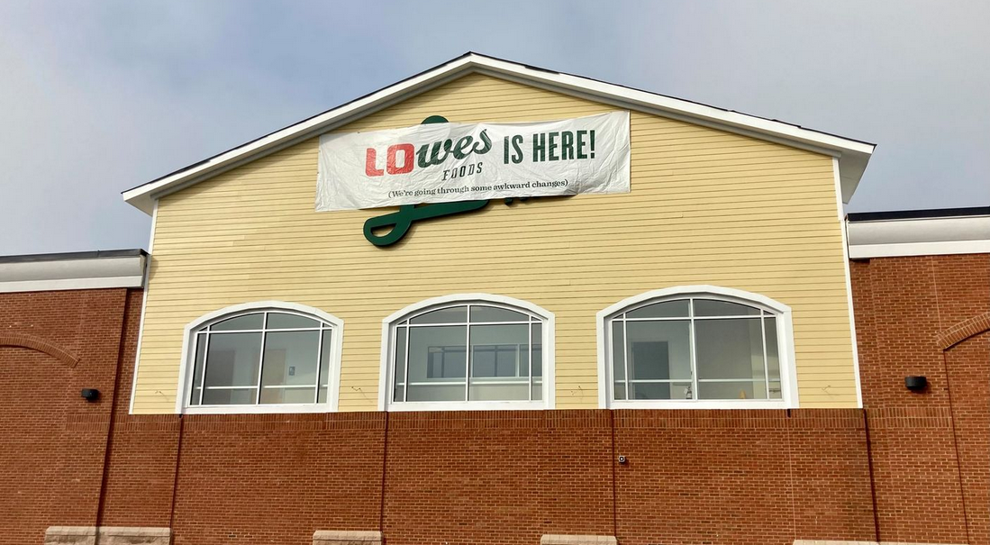 The transformation is almost complete inside the former Village at Sandhill BI-LO to reopen as Lowes Foods.
Alex Lee, the parent company of Lowes Foods, purchased the store in September 2020. The building temporarily closed Tuesday for the finishing touches, and it will be unveiled at 5 p.m. Thursday.
"We are excited about the re-opening of this store and presenting a full Lowes Foods experience to our guests," Lowes Foods President Tim Lowe said. "We appreciate everyone's patience as we went through that awkward transition phase. I think the final result will be well worth the wait, and we hope everyone will stop by and see the changes."
The store will feature areas that are unique to Lowes Foods:
The Beer Den offers a variety of beer with many local options. Shoppers can grab a pint and drink while they shop, or fill a growler or crowler to take home.
The Smokehouse has a daily rotation of wood-smoked meats including beef, pork, chicken and salmon, using different kinds of wood to infuse flavor.
Pick & Prep offers packaged, grab-and-go fruits and veggies that are cut fresh throughout the day. Shoppers can get certain amounts of the fruits, veggies and herbs they need.
Bread Crumb is the area in the store that houses fresh-baked breads from traditional sourdough and baguettes to sweet breads and savory focaccias.
Sammy's allows customers to grab a sandwich or pizza for a quick meal. Shoppers can have the items custom-made to fit their ingredient preferences, or grab-and-go.
The Cakery is Lowes Foods' bakery, where staff makes square-shaped cakes in all sizes assembled in-store. The icing is also made fresh with real cream and butter.
The Chicken Kitchen offers rotisserie chicken, fried chicken, wings, chicken pot pies, tenders, chicken salad, and soup. All chicken is fresh and locally-sourced. An animated "chicken chandelier" signals the start of the Lowes Foods' special chicken dance song when hot chicken comes out of the rotisserie oven.
Divine Cut features Certified Angus Beef, and allows shoppers to pick up custom cut dry-aged steaks to take home.
Online shopping will be available. The store is located at 120 Forum Dr., Columbia.
There are four other Lowes Foods in the area, with one in Forest Acres, two in Lexington and one in Chapin. The Chapin location was also purchased from BI-LO and is still undergoing renovations with a grand reveal planned for the fall.