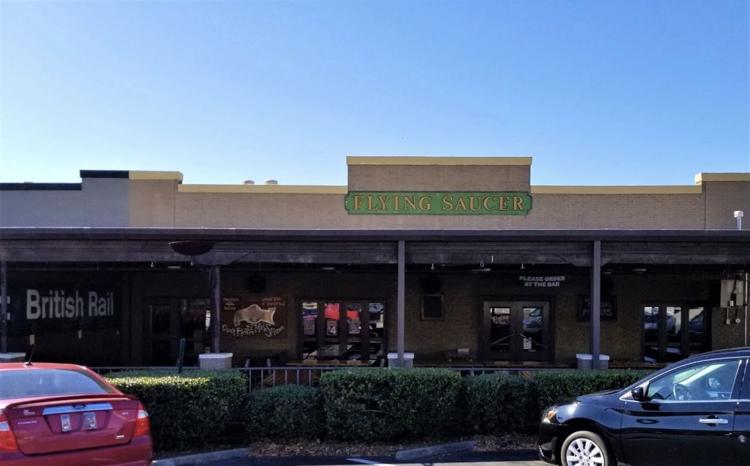 Representatives from Flying Saucer in Columbia's Vista announced Wednesday that the restaurant and bar will be closing its doors after last call on Tuesday, Dec. 10. Known for its variety of beer, the store has been in operation since 2003. An exact reason is not mentioned for the closure, just that "the time has come to move on."
The announcement reads:
Thank you so much for your support and making the Flying Saucer your home. We are going to make the most of our remaining week here with you all, serving world-class beer while it lasts, soaking up The Vista, and celebrating with our Beerknurds.
One of the most decorative aspects of the restaurant is the dozens of plates with customers' names positioned across the walls and the ceiling. Members of the UFO Club obtained a plate after consuming a certain number of beers. In regards to the plates, the announcement reads:
For those UFO Members that have a plate in the Ring of Honor, be sure to swing by this Saturday or Sunday during business hours to retrieve your well-earned trophy. In the future your membership card is valid in all other Saucers. If you frequent another Saucer, please inform that store that you would like to join their club. For those members that have yet to earn your plate, you can pick up your journey whenever in another Saucer.
The Flying Saucer team noted there will be deals in place for the remaining six days, to help make the most of the last week in operation:
We're going to need help draining these taps and clearing the cellar – and we need to serve our best guests before we fly out. All draughts will be $4.00 while they last. Bottles will be $4.00 and $10.00 depending on size.
So, come hang, hug your bartender, and help us kick these kegs.
Cheers and thanks for everything,
Flying Saucer Family
The store is located at 931 Senate Street. More information can be found on the Flying Saucer Facebook business page.