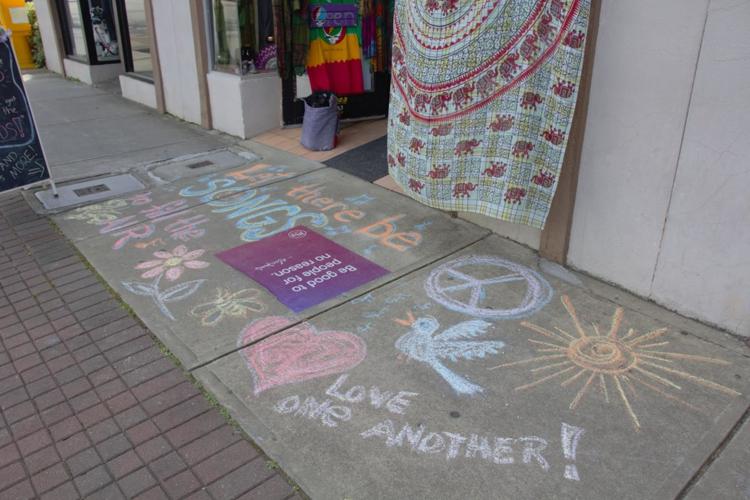 Columbia's oldest shopping village has weathered many storms in more than 100 years serving the Capital City. The coronavirus crisis is unlike any in recent memory, but as with all the others, the locals who make the neighborhood special are working together to get through it, and offering a bit of comfort and sunshine to those they serve.
The restrictions put in place in hopes of stopping the virus have affected every Five Points business. Some have had no choice but to close, but many remain open, doing what they can for the community. At Loose Lucy's, Don and Jenn McCallister still open daily for reasons that go beyond any potential profit.
"We are told almost daily that this place is comforting to people," Don McCallister said, adding that the store has plenty of room to allow social distancing while browsing.
Jenn McCallister agreed, saying "We provide more than products. This is a place to come and listen to the music and have a conversation. We've always taken that seriously as part of our mission."
Down the street at Fit Columbia, owner Angie Sellers has done the same, organizing a socially distanced (everyone separated by one meter) casual walk around the neighborhood this week.
Sellers and her team are also posting videos online featuring activities from yoga to stretching to art therapy that people can do at home.
The Gourmet Shop is also open for shoppers in its retail section, as well as offering a takeout menu. Several other retail stores are open too, such as 2G's Clothing. Good for the Sole Shoes, and The OOPS! Co., and many restaurants are offering takeout and delivery service (see full list below).
Owners of those businesses which have shut down are working to help employees through the crisis, and encouraging people in need of services on a freelance basis to get in touch to be connected to employees in need of extra work. It will not be an easy time, but the community is determined to endure side by side.
"We're always encouraging 'shop local' and support local businesses, but it has never been more important than right now," said Five Points Association Executive Director Kelsey Hennighan. "Five Points is filled with locally owned, small businesses that make it a one of a kind neighborhood. Many of the establishments have called Five Points home for decades and we want them here for years to come! To ensure that happens, it's imperative that in this challenging time we find ourselves in, we provide boosted support as we all weather this unfamiliar storm together."
A list of the status of Five Points businesses updated through 5 p.m. on Friday, March 20 appears below. Updates will be posted at the Five Points Facebook page.
2G's Clothing will continue with regular business hours.
The Baked Bear will offer take-out and delivery only with reduced hours of Monday-Friday 2pm-9pm, Saturday 1pm-10pm, Sunday 1pm-9pm.
Bombshell Beauty Studio will be closed 3/20-3/22.
Charlotte CBD, 5 Points Columbia is offering 25% off online orders to be picked up at the window.
Chick-fil-A Five Points will be drive-thru only.
City Yoga of Columbia will be closed until 3/23.
Cycle Center Columbia will continue with regular business hours.
Drip Coffee will be open 3/20 from 7am-2pm and will then close until 3/31.
Eddies Calzones Columbia will remain open and complete deliveries until 4am.
Gibson's will remain closed until further notice.
Goat's will remain closed until further notice.
Good For The Sole Shoes will continue with regular business hours and offer free local and national deliveries.
The Gourmet Shop is open and is offering delivery on anything in the store with a minimum $25 purchase.
Immaculate Body Piercing will remain closed until 3/31.
Insomnia Cookies is offering several delivery methods, including "no contact" options.
The Local Buzz will remain closed until further notice.
Loose Lucy's Columbia will be open from 11-5 and offers curb-side pickup and shipping.
Mr. Friendly's will remain closed until further notice.
Nicky's Pizzeria will offer take-out and delivery only.
The OOPS! Co. will work at reduced hours from 11am-5pm.
Papa Jazz Record Shoppe will work at reduced store hours of 12-5 Sun-Thur / Regular hours (10am-7pm) Fri/Sat.
Pawleys Front Porch will offer take-out from their food truck.
Publico Kitchen + Tap will close their dining space but will be open for curbside take-out and delivery through apps.
Revente will be open from 10am-4pm for phone/online orders with in-store pickup or shipping, Mon-Sat.
Saluda's Restaurant is offering curbside pick-up from their valet space from 5pm-8pm.
Scoopy Doo Gelato Shop will remain closed until 3/31.
Sid and Nancy will be open from 10am-4pm for phone/online orders with in-store pickup or shipping, Mon-Sat.
Starbucks in Five Points is offering take-out only.
Sub Station II will be open Monday-Saturday from 11AM to 3PM.
Sunrise Artisan Bath and Body will be open for in-store pick-ups only and will be operating Mon-Fri 11am-2pm, Sat 11am-3pm, and will be closed on Sunday.
Supercuts will be open 3/20 until 6pm and closed until further notice starting 3/21
Upstairs Audio & Video is continuing with regular business hours and offering additional pick-up options for customers.
Village Idiot Pizza will offer curbside pick-up, take-out and free delivery. 12pm-8pm Tue-Sun.
White Mule Music will remain closed until further notice.
Yesterdays Restaurant & Tavern will close their dining room and bar while offering curbside pick-up and delivery.