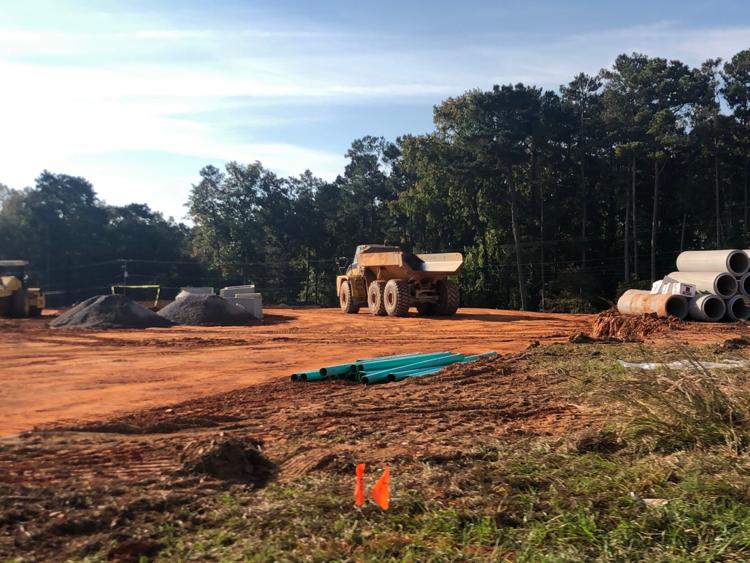 The land clearing on the corner of Mineral Springs and Sunset Boulevard in Lexington will soon be the new site of a 7-Eleven and a Fins Car Wash.
According to Fins Vice President Greg Ries, the company is a line of business from AAA, headquartered in Charlotte. Ries said since many people utilize AAA in times of inconvenience related to car troubles, Fins is meant to be a more "happy" part of the company.
"No one wants to break down on the side of the road. We run car centers - not necessarily a fun experience," he said. "So, we wanted something that would bring a smile to people's faces, and we landed on the car wash."
Fins Car Wash provides an express exterior wash with cutting edge technology, free vacuuming, towels and cleaner, according to Ries. The self-service kiosk also has license plate-reading technology, enabling those with a Fins monthly plan to drive past the kiosk and immediately begin their wash.
Individual washes range from $8 to $18 per wash, and Fins Wash Club pricing ranges from $18 to $40 a month. AAA Members receive a $5 discount per month on any Fins Wash Club plan
This will be the 15th Fins Car Wash and first in the Midlands, with other locations in Greenville, Charleston, Wilimington and Greensboro. Ries said they are looking forward to the Midlands expansion.
"We looked at many of the major metropolitan areas in North and South Carolina, and the Columbia area is one of them. We get excited to come into a new market. We're very civic-minded and love to be a part of the community," he said.
An exact opening date is not yet known, but Ries said they want Fins to be up-and-running before the end of 2021. He said a lot of site preparation comes into play between now and then.
Although attempts to contact 7-Eleven officials have not yet resulted in a response, a Town of Lexington representative confirmed that the convenience store is the other business slated for the location. Ries said as far as he knows, the 7-Eleven will be finished prior to the Fins completion.
This will be the fifth 7-Eleven in Lexington, with other locations on Platt Springs Road, Two Notch Road, Augusta Road, and in the 4000 block of Sunset Boulevard.