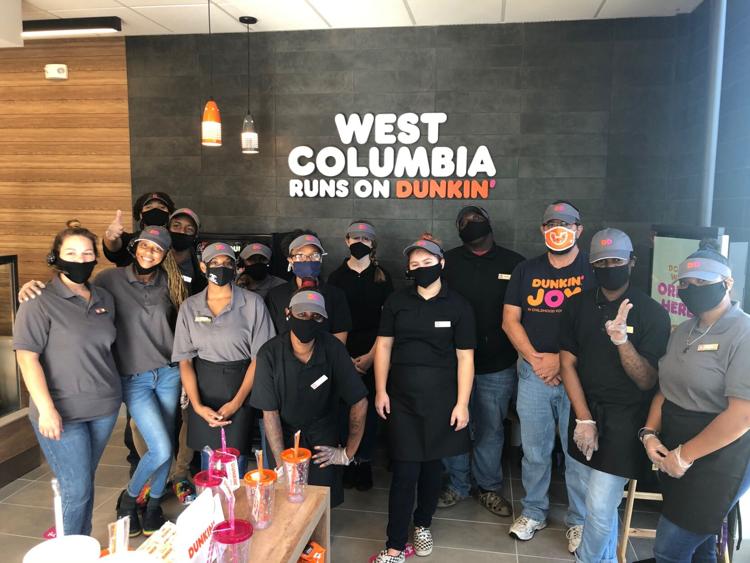 The donuts were flying off the shelf Tuesday morning as Dunkin' employees welcomed guests to the store's opening day in West Columbia.
Director of operations Jasper Cureton said everything came together - from the store's construction to employee training - in a little less than three months. "We've been trying to get in this area for awhile. Altogether it was approximately 80 days. We didn't have a lot of delays," he said.
The West Columbia Dunkin' is the third location in the Midlands to feature the company's "next generation" design. All iced beverages are on tap, visible from the moment customers walk in. The bakery case is up front so guests are able to view the products. The inside of the building offers a modern aesthetic, complete with a "West Columbia Runs on Dunkin" sign on the right wall. Other locations featuring the new look are in Ballentine and Lexington.
Although Cureton oversees 36 Dunkin' locations, he said it's still exciting seeing each new store open after all the hard work everyone has put in to prepare. "It's a lot of work behind the scenes getting the crew ready and training, but once we get past the construction phase, they're job one," he said.
Cureton said anyone interested in working at the West Columbia Dunkin' can apply in-person or through indeed.com. The store is located at 2871 Sunset Blvd.
The next Dunkin' in the Midlands has already broken ground on Garners Ferry Road. More information will be provided soon regarding the store's opening date.