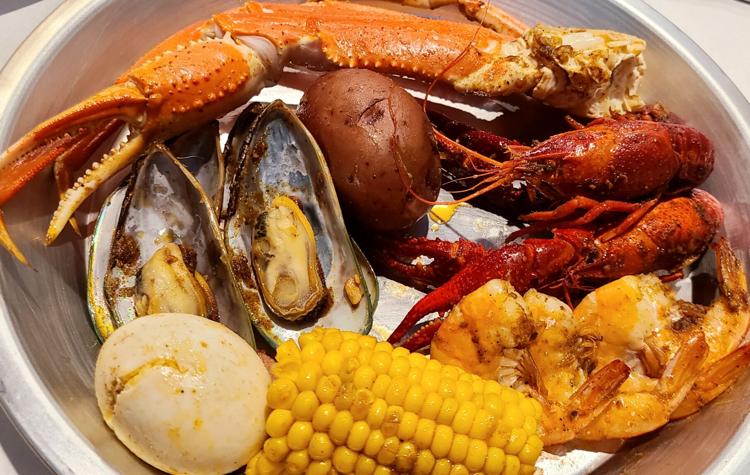 The taste of the Louisiana bayou has arrived in Columbia. Crabby's Cajun is a new seafood boil restaurant, located in the former Takosushi spot on Assembly Street.
The only restaurant of its kind in the Vista, Crabby's Cajun has been serving customers for almost a month after a soft opening at the end of August.
"We didn't do anything big or a grand opening because of COVID-19," said Serene Boorom, marketing director for Crabby's Cajun.
The restaurant, owned by Jessica Chen, specializes in seafood dishes that combine Cajun spices with a traditional Lowcountry boil. The menu also includes fried fish, hush puppies and chicken wings.
The first Crabby's Cajun, which Chen helped open, is a larger sit-down restaurant in Greenville. Chen's vision for her Columbia location was different. She adapted to the college-town environment to make the Midlands location a more casual dining experience.
Students and military personnel can eat at Crabby's Cajun for ten percent off their order by showing their student or military IDs. Boorom says they are working with the University of South Carolina to implement Carolina Cash transactions for students.
Chen's family immigrated to the United States from China about a decade ago and their goal was always to open their own restaurant. "They kind of carved a niche for themselves right here," said Boorom.
Chen is not only a minority business owner, but a single mother. Raising an 11-year-old son means Chen faces different challenges than other business owners. Traveling to source food providers recently kept Chen away from her son. However, she can spend more time with him now that online school has begun.
"I'm pretty proud of how far she's come and she's only in her early 30s," said Boorom. "She's plowing forward and she's trying her best and I think she's doing really well."
The restaurant is eager to serve the Columbia community going forward. "Pretty much we're just hoping that Columbia will welcome us," Boorom said. "We kind of want to be a part of this really exciting up and coming city."
Crabby's Cajun is open Monday through Sunday from 11 a.m. to 9:30 p.m. Pickup service runs every day from 11:15 a.m. to 9:15 p.m. The restaurant is located at 1115 Assembly St. More information can be found on Crabby's Facebook page.