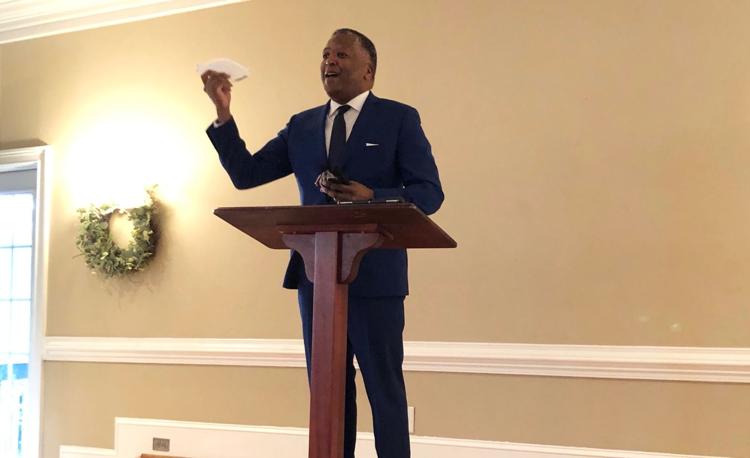 The Greater Cayce-West Columbia Chamber held its monthly breakfast Tuesday for the first time in weeks since the onset of the coronavirus pandemic. Although tables were distanced and breakfast items were individually-wrapped, a large crowd came to the Corley Mill House in Lexington to hear Columbia Mayor Steve Benjamin address the crowd.
Benjamin provided an overview of what the city did in order to best navigate through the COVID-19 crisis, and the ways the cities have come together across the region to better Midlands residents.
"In late February, we were looking at some challenges ahead," he said. "That brought people together across intergovernmental lines." Benjamin said on March 6, representatives from Columbia, University of South Carolina, DHEC, Fort Jackson, and others were all around a conference room table to discuss the possible plans for the future. "We established a coronavirus task force," he said.
Then throughout the month of March, other big events for the city including the cancellation of Five Points St. Pat's Festival, Gov. McMaster's state of emergency, and the establishment of a city-wide curfew took place. Benjamin said the city established a reserve fund March 20, to help small businesses, and another fund for nonprofits. "In that policy we appropriated one million to small businesses across the Midlands. Within 14 days we were able to get that money out the door," he added.
Benjamin along with mayors from Lexington, Forest Acres, West Columbia, Eastover and others have distributed about 15,000 masks across the Midlands, he noted. "I would encourage each of you to remember the fact that there's no 'red way' or 'blue way,' it's only red, white and blue. We're going to have to beat this thing by working together. Let's stay together and decide we're going to take control of this virus," said Benjamin.