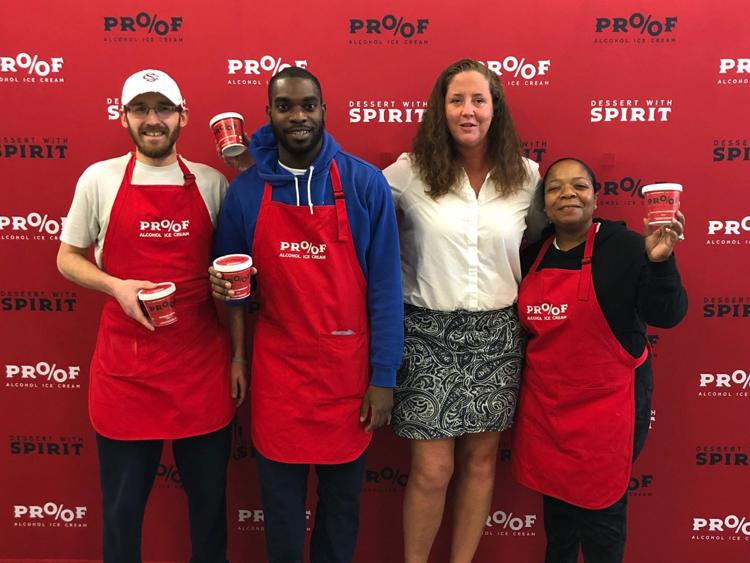 It could be argued that most adults enjoy eating a bowl of ice cream and having a drink every now and then. Jenn Randall-Collins decided that those two indulgences could, and should, be one in the same.
PROOF Alcohol Ice Cream was created in 2015, and Randall-Collins said she has yet to meet someone who hasn't liked the product. "My favorite part is conducting a demo and seeing the response from customers when they first taste it. It's just smiles. I've never encountered anyone who doesn't like the ice cream," she said.
Randall-Collins was originally introduced to the idea while in her home state of Kentucky. "As you know in Kentucky, everybody puts bourbon in everything," she laughed. "I started doing a bit of research on legislation that would allow the combination of food and alcohol in one ingredient. The states of SC and NY popped up." Since Randall-Collins was familiar with the Carolinas after having attended USC, she decided to move to the Midlands to start her business.
There are about five different flavors of PROOF available at any given time. Currently, Apple Pie Moonshine is the fall seasonal flavor. Next week Pistachio Rum will be introduced for the winter. Other staples include Bourbon Caramel, Strawberry Moonshine, Espresso Rum, and Mocha Chocolate Moonshine. All flavors are 7% ABV, with one pint being comparable to drinking one bottle of wine.
PROOF has grown significantly in the past  four years, and Randall-Collins said she is humbled by the success. "It's incredible. It all starts with the team. I don't even call the folks that work for us 'employees,' I call them team members," she said.
Next week the company will be awarded by the South Carolina State Chamber of Commerce and Brand Leader marketing group. PROOF will be the SC Branded Awards 2019 Product Innovation winner.
"To be recognized for our innovation is one of the highest distinctions we could receive. We're not just making decadent ice cream, we're masterfully mixing art and science to create an indulgence experience that truly makes people happy," said Randall-Collins.
PROOF operates out of a 5,000 sq.-ft. facility on the Midlands Technical College campus. The product can be found at multiple locations across the state including Lowes Foods, Total Wine & More, and Green's Beverage Warehouse. More information, including catering options, can be found on the company's website.