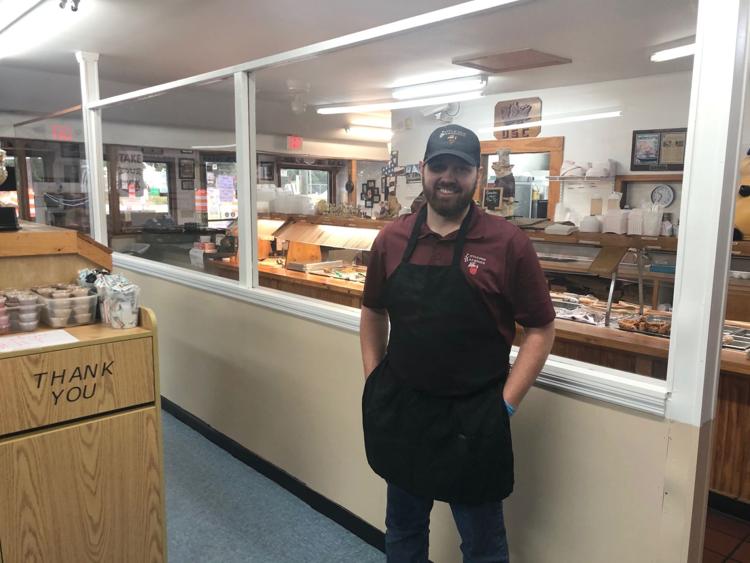 Restaurants across South Carolina must follow a list of specific guidelines mandated by Governor Henry McMaster in order to offer dine-in services. Additionally, buffet-style restaurants have even more restrictions to provide a safe experience for customers amid the ongoing COVID-19 pandemic.
Some restaurants, like Little Pigs Barbecue in Columbia, have taken drastic measures to make sure customers are still accommodated and are able to get their fill of barbecue and southern sides.
Little Pigs' manager Chris McGee decided to build a 24 ft. plexiglass wall parallel to the buffet line, so dine-in customers will be separated from the food area. "He did it in like three hours. He can build anything," said owner Champ McGee, who is Chris's father.
After the wall was created three weeks ago, McGee said he Facetimed a DHEC compliance officer who approved of the setup.
The buffet process has been adjusted to still allow customers to get what they want, but now without serving themselves.
Dine-in guests enter through the side door and check the boxes on a piece of paper for what they want to eat on the buffet. They pay through an opening in the plexiglass by the cash register, then the cashier hands their order slip to an employee, who fixes their plate and drink behind the wall. McGee said guests have an option of a sandwich, basket, or meat-and-three plate - but laughed and said people could also order a veggie plate, meat plate, or really "anything they want."
"We're calling it cafeteria-style with seconds," he said. "But we haven't even had but two or three so far come back for seconds, we give them pretty hefty plates."
Little Pigs has removed approximately 120 seats for dine-in, and can currently accommodate 82. McGee was happy to report that although their dine-in business has been reduced, they have made that up in to-go orders. "The carryout is super strong," he said.
Additional safety precautions at Little Pigs include sanitizing every hour, on the hour. "One of my dishwashers comes out and sanitizes the outside door, inside door, handles, all the counters, all the way to the bathrooms," said McGee.
Little Pigs specializes in a variety of barbecue, fried chicken, ribs, and more than 18 sides. Hours of operation are 11 a.m. to 2 p.m. Wednesdays, 11 a.m. to 8 p.m. Thursdays through Saturdays, and 11 a.m. to 3 p.m. Sundays. The business is located  at 4927 Alpine Rd.  More information can be found at littlepigs.biz.