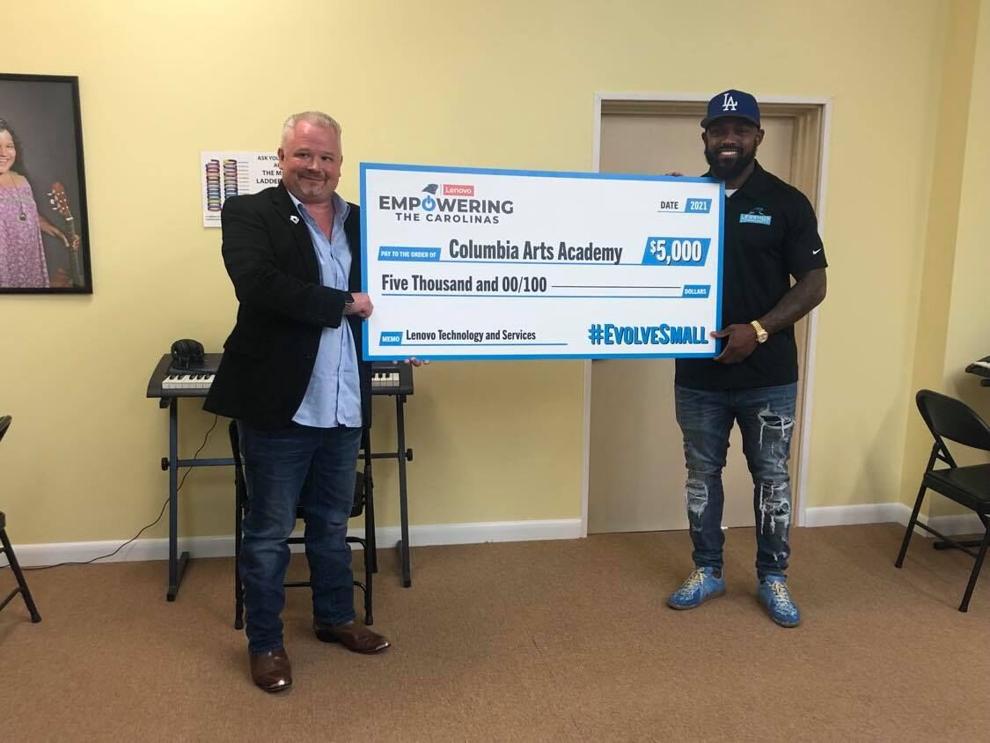 Columbia Arts Academy director and owner, Marty Fort, received quite a big surprise donation Wednesday morning, presented by one of his favorite athletes.
The Carolina Panthers teamed up with Lenovo for the company's Empowering the Carolina's Program, where fans nominated their favorite small business for the chance to win a $100,000 advertising package with the Panthers during the NFL season. There were more than 300 nominations, and Columbia Arts Academy was the only business in the Midlands that was named a Top 10 finalist.
Former University of South Carolina football player and Carolina Panthers legend, Captain Munnerlyn, traveled to the academy to deliver the news with a check in hand for $5,000 and a free Lenovo laptop. Fort said he was blown away by the whole experience.
"I've always been a hardcore Panthers fan, and I've always been hard core about my business and music, and what I do here. So, this is just - I'm still soaking it in," he said. "This is crazy."
According to Fort, he was told Monday he was going to be contacted by someone from the Carolina Panthers, but had no idea what it was about. Fort is a season ticket holder for the Panthers games, and said he assumed it was something related to his tickets.
"I didn't know the check was coming today, I didn't know Captain was coming today. So they got me, in a great way. This has just been awesome," he said.
Munnerlyn presented the check to Fort, noting that his nomination came from people within the Midlands who felt he was a deserving recipient. "Everyone has noticed what you've been doing in the community," Munnerlyn told Fort. "People have been saying, hey, this guy Marty, he deserves this. So it isn't just coming from the Carolina Panthers, people have been noticing you. Keep it up, man."
Fort also received free suite tickets to the Panthers vs. Steelers preseason game Aug. 27. All the finalists will be recognized on-field during halftime and the grand prize winner will be announced.
Columbia Arts Academy is located at 3630 Rosewood Dr. Additional information can be found at columbiaartsacademy.com.