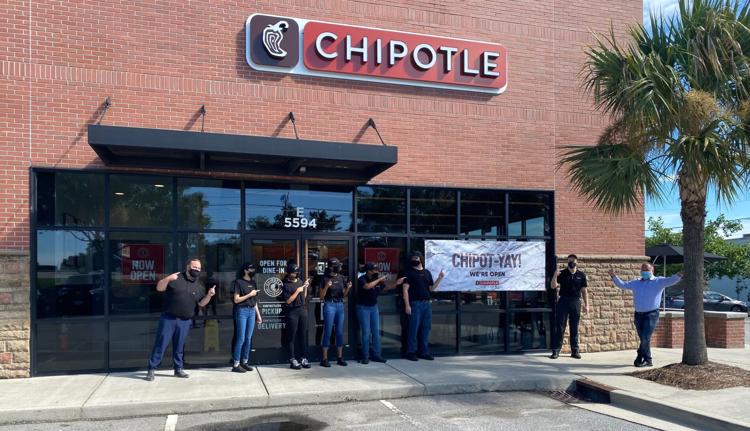 The wait is finally over – Chipotle's first Lexington location officially opened Wednesday.
General manager TJ Hills and field leader Brandon Henry were welcoming customers to the store opening day as they stood outside the front doors. Chipotle Mexican Grill, known for its fast-casual tacos, large burritos and fresh guacamole, is located in the former Miyo's location at 5594 Sunset Blvd.
Henry said there was a 10-week construction period for the new store that began shortly after Miyo's closed at the end of March. "I think they literally closed on a Friday and we were here in two weeks. We gutted it all and reconstructed," he said.
Although it's been difficult for some businesses to open during the pandemic, Hills said Chipotle's safety regulations already aligned with much of the added COVID precautions. "Chipotle has industry-leading safety standards, so we did that even before. So we were as prepared as anybody can be for a pandemic," he said.
The restaurant can seat up to 99 people, but managers will currently allow for approximately 25% capacity. "I know we're allowed 50%, but we're just kind of taking it at our own pace," said Henry.
The response from just the first day was quite positive, according to Henry. "We have a lot of people from this area who will drive to either the Vista or Harbison and always ask when we're opening one in Lexington," he said. "We're super excited."
Chipotle is open from 10:45 a.m. to 10 p.m., and also has an area of outdoor seating available. To-go food can be delivered through Postmates, DoorDash and Uber Eats.
Beginning Monday, Governor Henry McMaster will require all patrons to wear a mask when entering a restaurant.