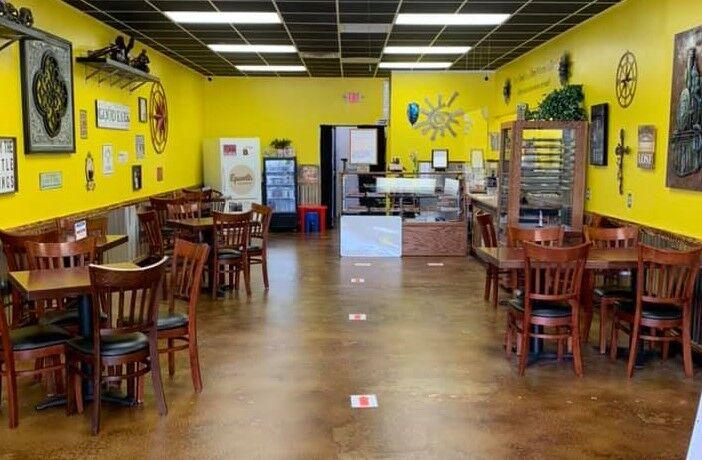 Many Chapin residents have been missing their beloved pimento cheese and chicken salad from locally-owned and operated Doza Rizen Cafe. The restaurant closed about three weeks ago while undergoing a move to its new location. Now the wait is finally over, and the store held its grand reopening Monday at 140 Amicks Ferry Rd. in the Food Lion shopping center.
The restaurant has a fast-casual setup where customers order at the counter, and take a number to their table. Paninis, wraps and salads are just a few of the homemade items Doza offers. "We don't have anything fried, we try to be on a more healthy basis. But we do have a few things that aren't as healthy like our cheeseburger wrap," Owner Robin Willette jokingly said. "But we make everything to order." Willette co-owns Doza with her husband Brian.
She said the line was out the door Monday as guests waited to place their orders.
"We had a great outpouring of support, I'll say that," she laughed. "Everybody had missed their Doza, from what I've heard." Although they were quite busy, Willette said she appreciated the patience customers showed her staff while they are still in the midst of "a learning experience."
Moving from a 900 sq.-ft. store on Virginia St. to a more-than 2,000 sq.-ft. new location is providing room for growth. "We can offer more things now that we have more room," she said.
According to Willette, Doza will be offering more bakery items, and more grab-and-go casseroles. A new grab-and-go case will be installed soon. "…Where you can come in and run pick up pounds of pimento cheese, chicken salads, meal kits, and take-home casseroles," she said. Since the restaurant is open until 7 p.m., Willette said they will also be adding more "dinner-like" items, including lasagna and chicken dishes. The items will be available for dine-in or pick-up.
Additionally, the new location has designated parking spots for curbside service. Customers can call in their to-go orders and say they'd like it brought out to their car, or they can walk in and pick it up on the counter by the front door. The restaurant also has added another phone line and a third cash register for faster service.
Willette said she and Brian are very appreciative to the Chapin community for coming to the grand opening and showing support. "It means a lot to us that that many people took time out of their day to come see us," she said.
Doza Rizen's new store has a capacity of 72, versus the 20 people the old location could hold. However, in light of Governor McMaster's mandate to occupy restaurants at 50% capacity, the restaurant can currently accommodate 36 dine-in customers, with additional outdoor seating.
More information can be found on Doza Rizen's Facebook page.