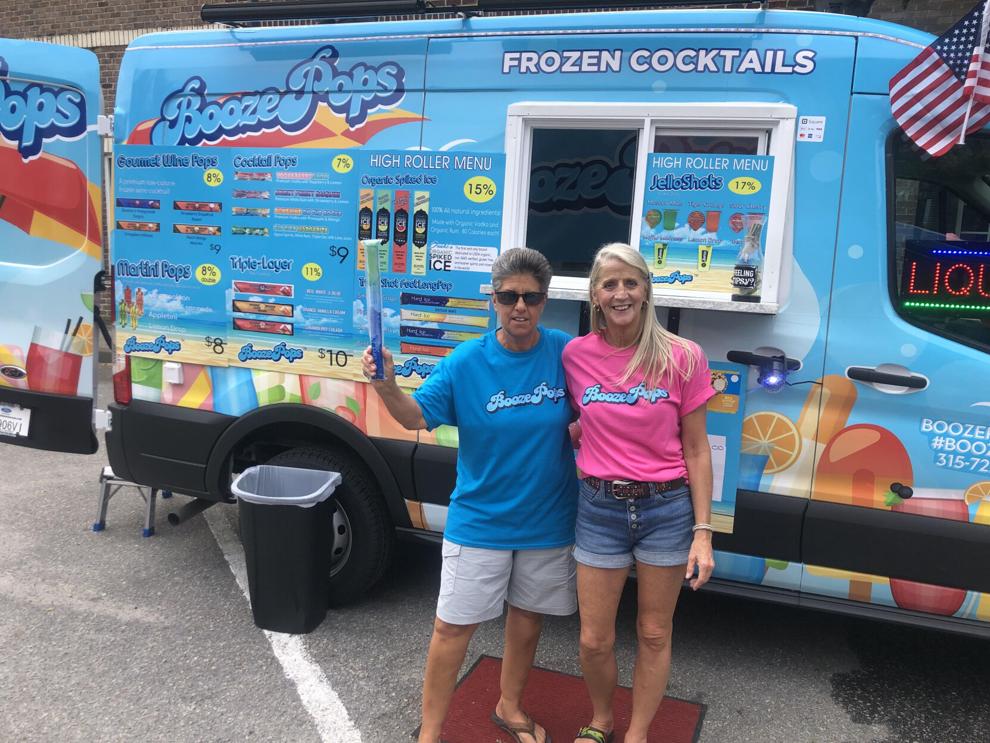 Colleen Graziadei and Cindy Duesler moved to Chapin from New York two years ago to begin their retired living. Although the couple was ready to build a house and settle down a bit, they still did not want to consider themselves "idle." Graziadei and Duesler happened to see a brightly-lit, attention-grabbing food truck one night while at a stop light in Garden City Beach, and said they knew it was what they wanted to do next.
They bought into the Booze Pops franchise - a food truck offering a variety of alcoholic popsicles for adults, and ice cream for kids.
"I just looked over and said to Colleen, 'you gotta get that number, we've got to do this. This is cool,''' Duesler said. "We're both workers, and we're always onto the next."
The Booze Pops Cola food truck made its first appearance last week in the couple's neighborhood. Their first festival was Monday at the Chapin Labor Day celebration.
Items available include cocktail pops like the "glacier margarita" with agave spirits, white rum, triple sec and lime juice, and the "vodkaberry snow" with premium vodka, raspberry and lemon. Martini pops like a cosmopolitan, watermelon lemonade and appletini are available, along with wine pops and jello shots.
Graziadei said there are nine to 10 kid-friendly options ranging from non-alcoholic popsicles to ice cream sandwiches.
Although the food truck has only been on the road for about a week, Graziadei said so far they've gotten great feedback.
"It's been all positive comments, and people keep coming back to the truck to try something new. I haven't heard a single negative comment," she said.
The Booze Pops Cola truck is available for parties, weddings, festivals, and even to drive through Midlands neighborhoods. They will be setting up at the corner of Bluff Road and Brookwood Drive during all Gamecock football home games, and will be on Harden Street in Five Points Friday nights. They will also be making appearances at Soda City in the near future. All customers must be 21 and up to order the alcoholic popsicles.
"We are both a people-person, so hello, why not bring the party to the people? We love engaging and talking to customers," Duesler said. "What we want to do is make everybody happy, one booze pop at a time."
The couple said they are very thankful to franchise owner Woody Norris for giving them the opportunity to be a part of the Booze Pops family.
The contact number for booking the food truck along with additional details can be found on the Booze Pops Cola Facebook page.