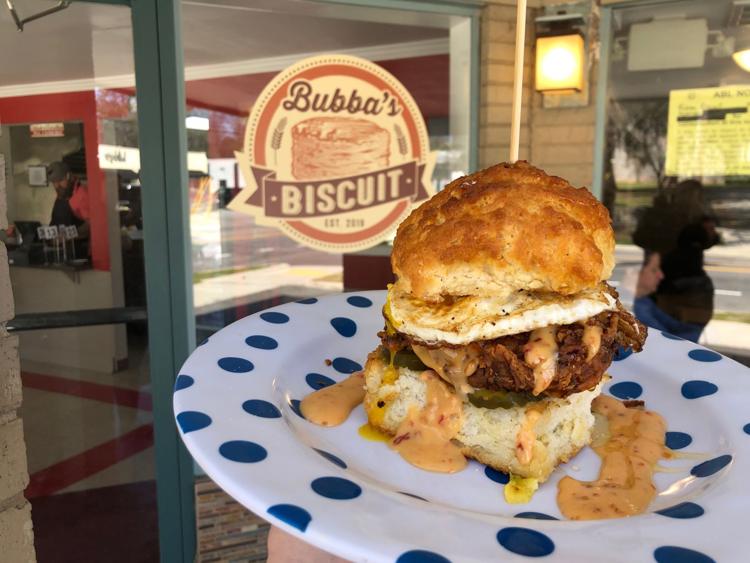 Lexington has a new restaurant offering a variety of menu options all centered around one of the most popular Southern comfort foods: a biscuit.
Bubba's Biscuit is located at 115 W. Main St. beside the Icehouse Amphitheater in the former Top Dogs building. Staff began the first day of a week-long soft opening Monday morning. Owner Arif Rizvi was busy behind the counter making the artisan creations for his customers.
Entrees range from specialties like the "Sweet Porky" biscuit with a sausage patty, tomato, pimiento cheese, sweet chili-bacon jam and a fried egg, to traditional options like a bacon, egg and cheese biscuit. All items are made-to-order. Customers place their orders at the counter, take a number, and seat themselves. The restaurant has seating for 40 inside, with a few additional tables outside.
Rizvi said he's been excited, anxious and nervous for the new store's opening. Bubba's Biscuit first opened in Columbia last October, and Rizvi had been planning to open his second location in Lexington. He said they will likely hold their grand opening in a couple weeks, so they have time to get into the "flow" of things first. "We just ask that people be a little patient with us," he said.
The Bubba's team has been preparing for the opening for weeks. Rizvi said he's proud of his staff. "We were here until about 2 a.m., and everybody was back at 6 [Monday morning]," he said. "The whole team, the director of operations, Ross, everybody worked extremely hard. People are taking pride in what we're doing, and that means a lot."
There will soon be a family-friendly "back yard" behind the restaurant where customers can eat, hang out, bring their dogs and enjoy themselves.
Exact hours of operation have not been posted yet. According to the restaurant's Facebook page, they will be open for breakfast, brunch, and offer an evening menu for "some evenings," with craft beers and mimosas also available. Check the Bubba's page for updates.