"It's been a long time coming," said Real Estate Developer Ben Arnold of Arnold Family Corporation (AFC) regarding his company's upcoming development projects. The new developments are set to be located downtown in Columbia's Vista and will feature two hotels and a multi-family development.
Arnold has been working on renovating the Vista since 1996, and the projects will help complete his vision. The City of Columbia's planning commission approved the 12-acre project last week, making way for what Arnold describes as the largest and only four-star hotel in Columbia.
Bounded by Gervais Street, Wayne Street, Gadsden Street, and Pendleton Street, the proposed dual-brand Hyatt Centric hotel, an 11-story lifestyle boutique hotel, will rise next door to the iconic Adluh Flour building. The luxury hotel will be designed as a full-service upscale hotel and feature 301 rooms, a rooftop bar, and a terrace, a lobby-level restaurant and bar. Just east of the development will be a Hyatt House Extended Stay. The last piece of the project will be a 5-story, A+ class multi-family development with 183 units and a 385-space garage projected to exceed the luxury of ACF's high-end multi-family project, Palms 1101.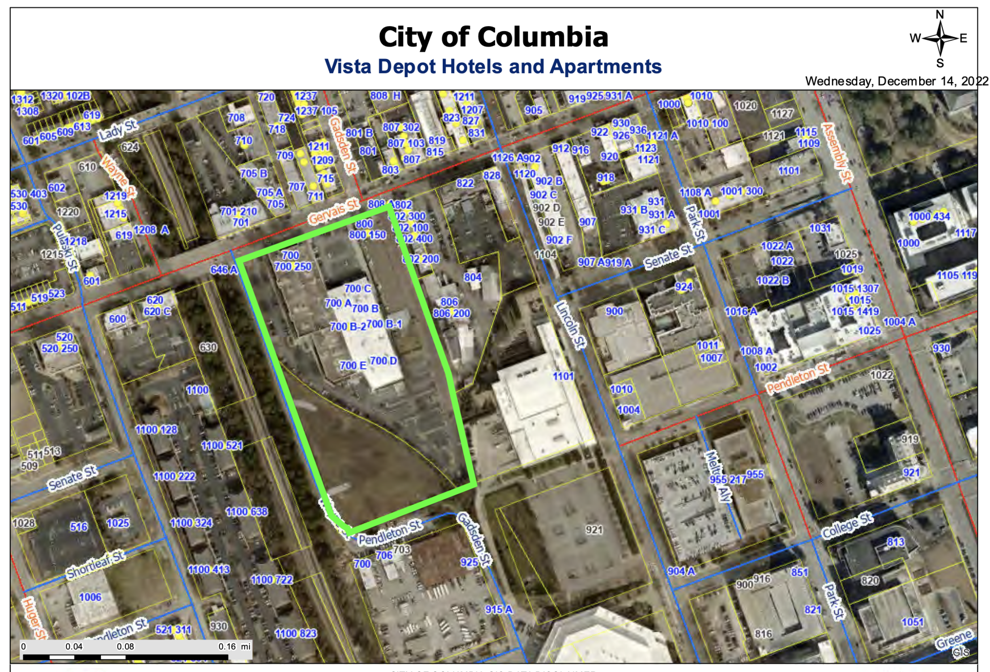 Nestled east of the Congaree River and west of Assembly Street, the Vista has been a vibrant part of Columbia's downtown. Throughout the years, the area has had its share of business openings and closings; Arnold said the projects will create a new buzz and be rebranded as 'The Vista Depot District.'
"We've lost a number of businesses through the pandemic and after, but we seem always to have a flow of new things coming to us, and the Vista does need a shot in the arm," he said. "You still have the convention center, the arena, and the business school; I think it's going to have a little resurgence. The university is building a large project, 938 beds behind us and a lot of parking; there are additional dorms that they are building and a commuter lot, so I think the Vista is coming back. I mean, Bull Street has been getting the attention, but we're still in the core of the business area."
One of AFC's tag lines is "To provide places for people to eat, work, live and play that are exceptional compared to what is out there now." To ensure a quality of life for those living near the hotel during construction,  Arnold said the projects would be built all at once.
"So, this is really, provided we get the approvals we need, which is why I'm in Columbia this week, we will go as fast as we can," he said. "So, we got like a year of design, permitting, and financing, and then we hope to start the first quarter of 2024, and then, allow for some, you know, market disruptions, it's about a two-and half-year build."
According to Arnold, the project is also forecast to bring a rough estimate of at least 1,600 construction jobs over the two-and-a-half-year period and approximately 160 ongoing jobs. He added that internship opportunities would also be available.
"There's some internship opportunities that a four-star hotel like this with all these lifestyle components are gonna be able to add to the university. We like to help the university school of hospitality retail and sports management; you know, just help students too," said Arnold. "There's the permanent jobs, but there's the side jobs that we think kids will benefit from."
Columbia is expanding, and Arnold said he is excited about the city's potential. He noted that although there has been growth, Columbia still needs to catch up with some of its southeast cities, and his company wants to play a part in that process. Although Arnold has suggested an estimated timeline for the construction, reportedly, no building timelines were discussed by the planning commission.
The next City of Columbia planning commission meeting will be Thursday, Feb. 9, at 4 p.m.